Putting Kleo To Work For You Every Time
March 19, 2023
We're glad you're here! Our team is here for you - to help you stay consistent, make the most of your time, and craft a speaking experience that's just right for you. Give us five minutes, and we'll share our best tips and tricks for putting Kleo to work for you!
Many of these features will be managed through the Kleo app Video Settings. Access your Video Settings by tapping on the screen to pause any interactive video. The Settings gear will appear, as circled in yellow below.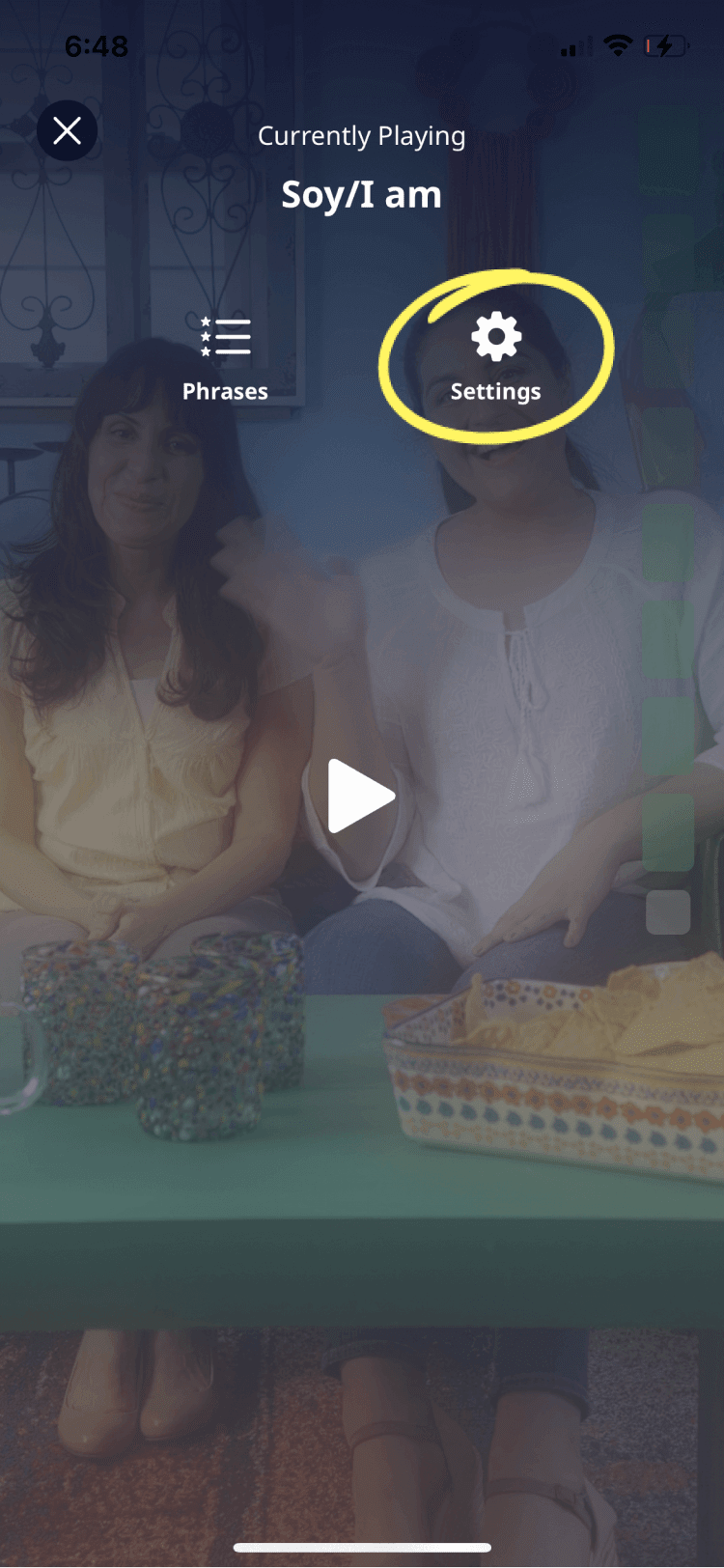 1. Customize your Kleo experience
Adjust your thinking time
Why? Get more or less time to think in the interactive video prompts. Give yourself more time when working on longer sentences, or try a Drill with less thinking time when you feel like an extra challenge. Adjust as often as you'd like.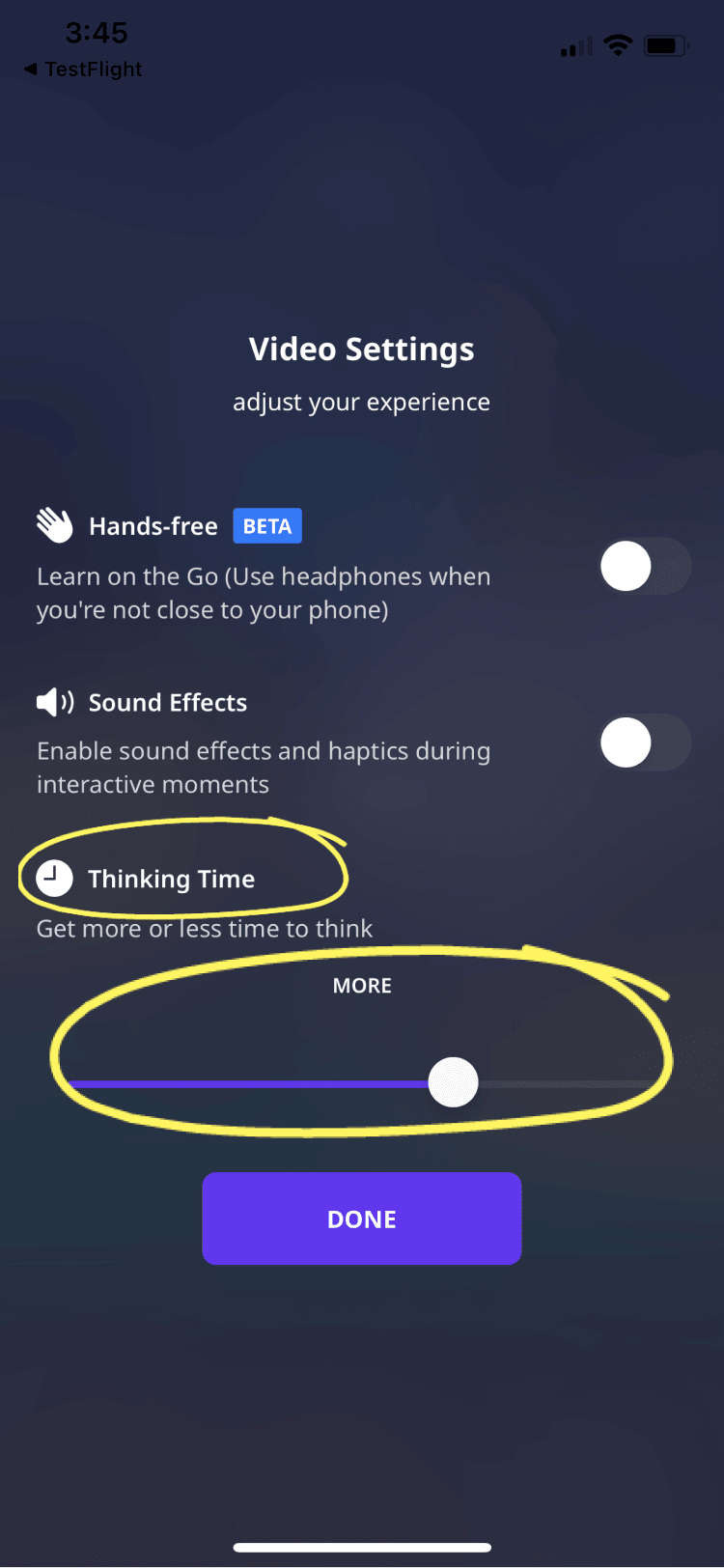 How? Adjust the "Thinking Time" slider in the Video Settings. (As a reminder, access Video Settings by tapping on the screen to pause any interactive video and then tapping the Settings gear.)
You can also adjust "Thinking Time" in your Kleo App Settings.
Practice your way with custom lists
Why? One of your top requested features! As you learn, add phrases to your own lists to practice anytime. Build categories to focus on exactly what you want. Practice your lists in interactive video drills or vocabulary exercises.
This feature is new! Try it out, and let us know what you think!
How? There are two ways to add desired phrases to lists. Tap "Phrases" in any paused interactive video or tap "Add to List" in the EXPLORE IT section.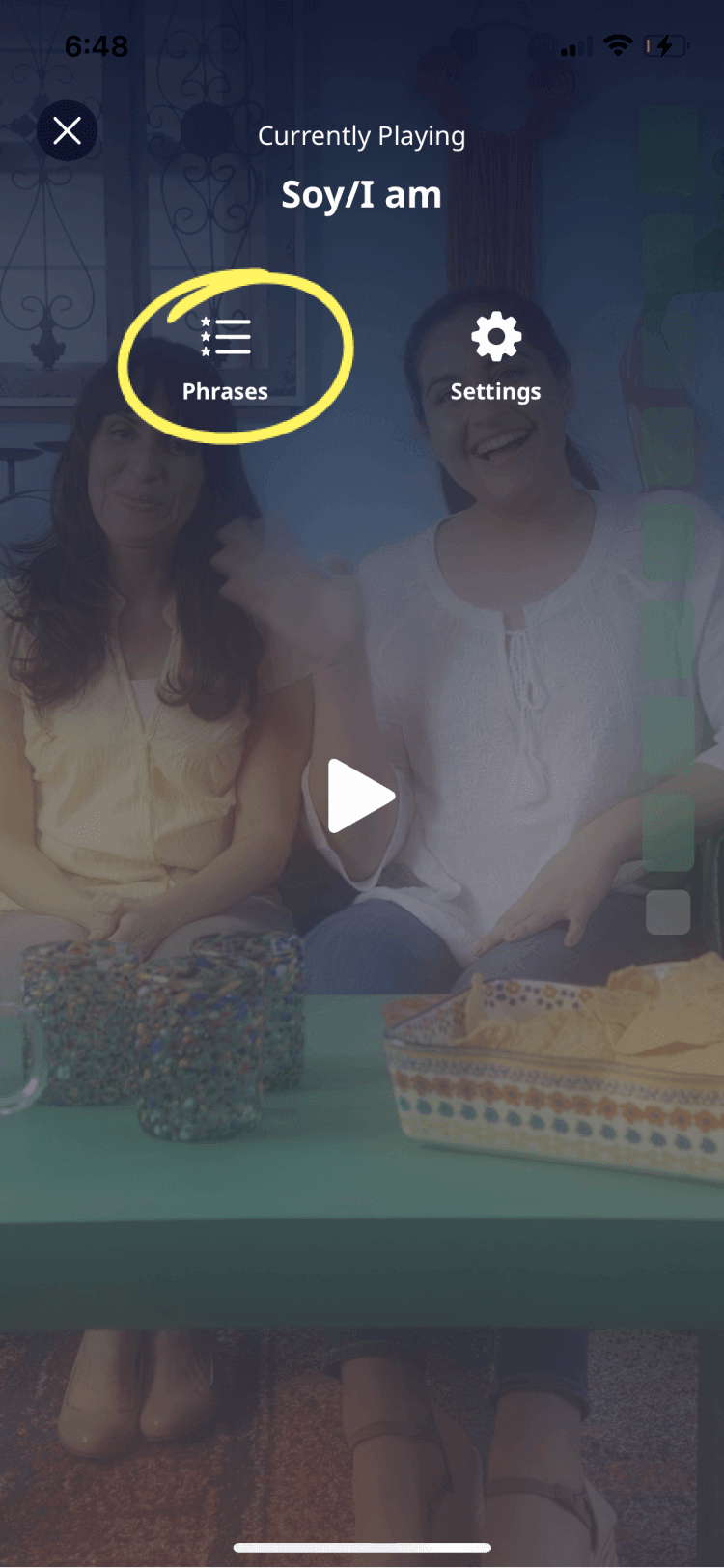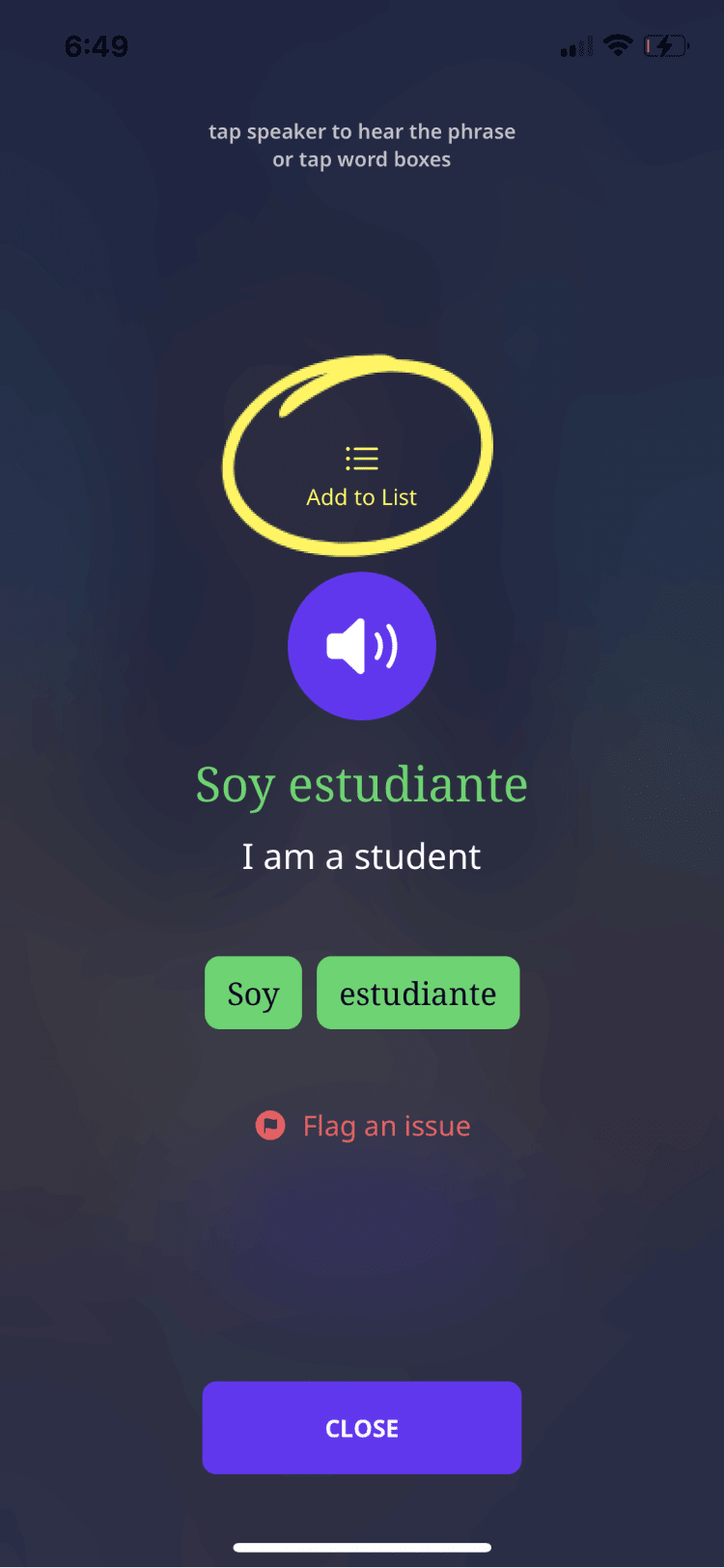 To practice your custom lists, head to the PRACTICE section, and tap on Lists. Tap the play button for a given list to choose an interactive video drill or a vocabulary exercise.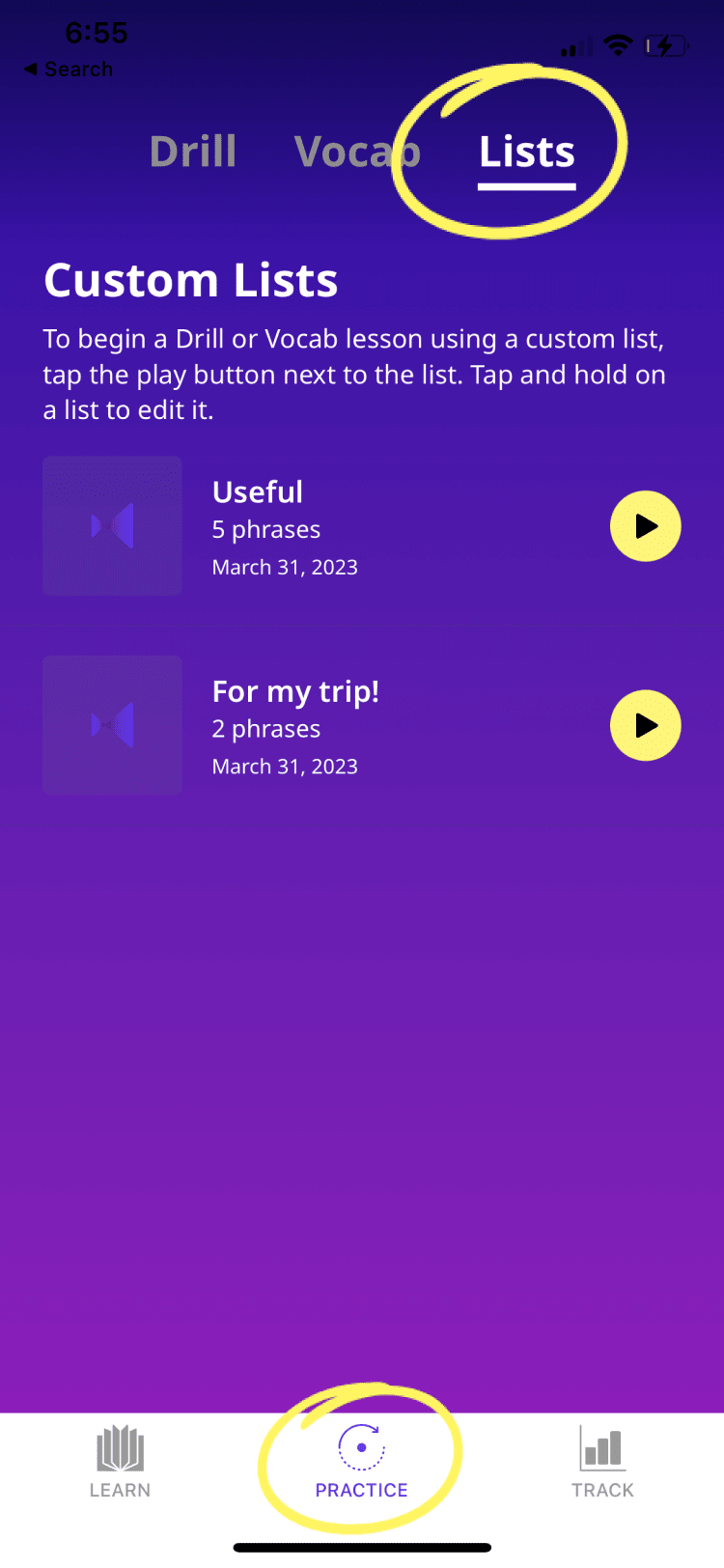 Tap and hold on a given list to see the included phrases or edit the list.
Set the mood with sound effects
Why? Turn on/off sound effects during video lessons. With sound effects on, you'll hear an indication when the microphone is activated and ready for you to speak. You'll also hear different sounds indicating your speaking result.
Try adjusting the sound effects setting during different parts of the app to discover what feels best. Some learners prefer no sound effects during Concept lessons to feel more immersed in the contextual setting.
Other learners enjoy hearing the results indicator during Drill lessons or when using the PRACTICE section, to lend an exciting tone.
Or maybe your preference just depends on your mood on a given day. See what you like best!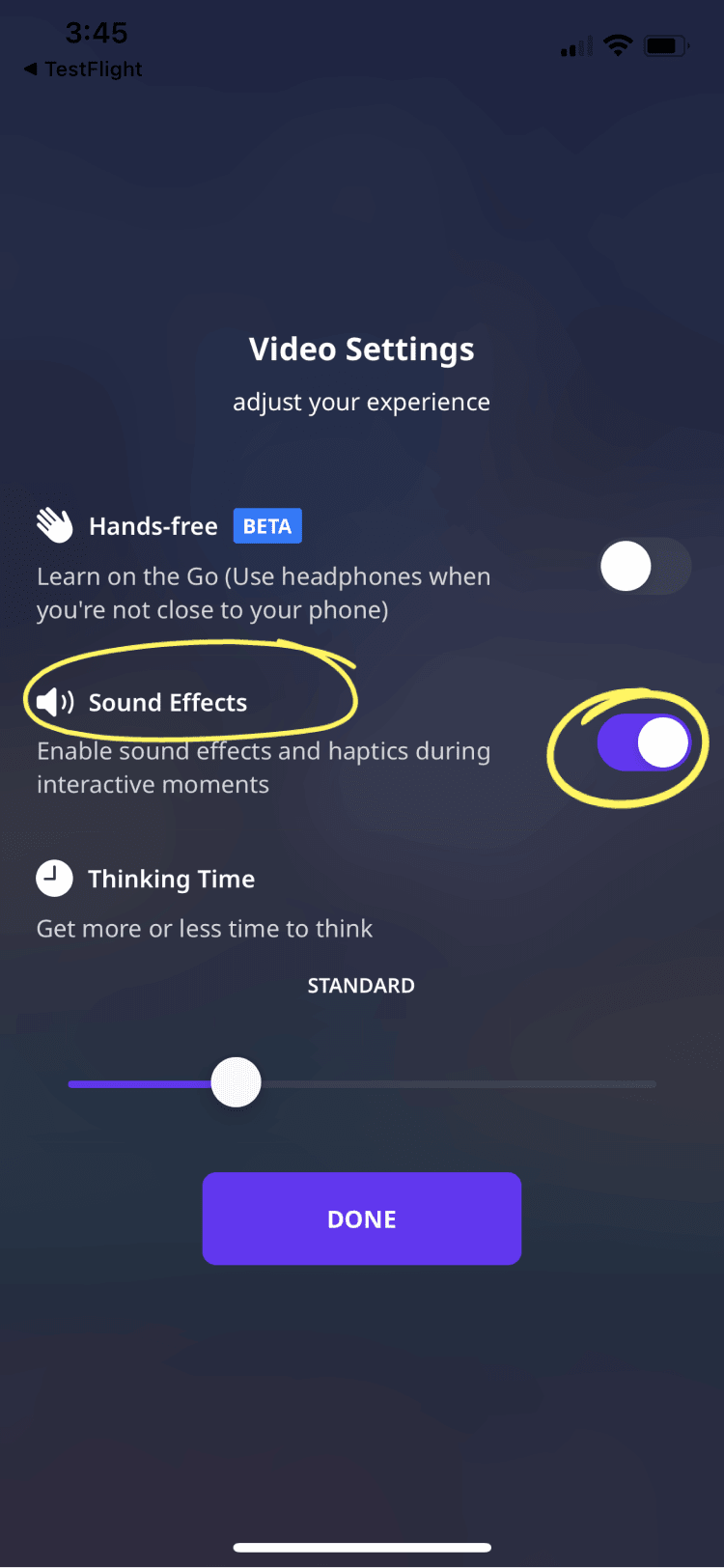 How? Tap the "Sound Effects" toggle in the Video Settings. (As a reminder, access Video Settings by tapping on the screen to pause any interactive video and then tapping the Settings gear.)
Note that sound effects are automatically enabled during Hands-free mode (see below) or when a device has the accessibility setting on.
Navigate using the result nodes
Why? The nodes in an interactive video lesson show your result. Did you know they can also be used for navigation? Tap a node to repeat a speaking prompt or listen to an explanation again.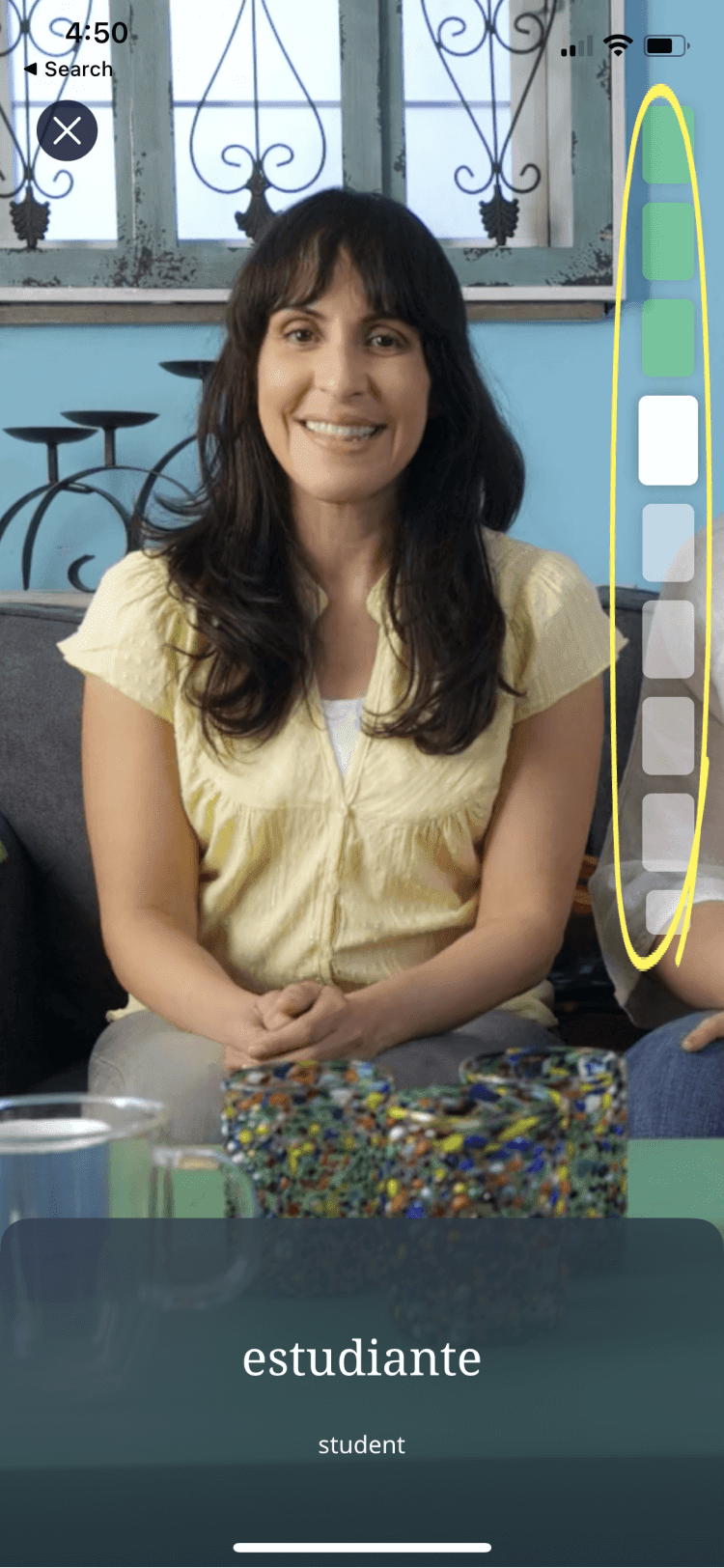 How? Tap any node within the interactive video lessons. If you are jumping to a distant point in a lesson, you may experience loading time.
Note that nodes are not tappable when a device has the accessibility setting on.
2. Never miss a chance to practice
Solidify your learning in the "PRACTICE" section
Why? The "PRACTICE" section is one of the most important parts of the Kleo concept. Of course, it's fun to push for completion of all the lessons on the "LEARN" tab. However, there is a limit to how much new information our brains can absorb in one period.
Therefore, it's valuable to incorporate the "PRACTICE" section into your daily routine. This is also a great way to stay consistent when you only have a few moments.
In the "PRACTICE" section, enjoy personalized lessons that integrate everything you've learned to date. Practicing across topics is a fantastic way to make everything stick. Your brain is challenged to recall learnings you've acquired over time and integrate these skills together. This is a powerful way to build muscle memory.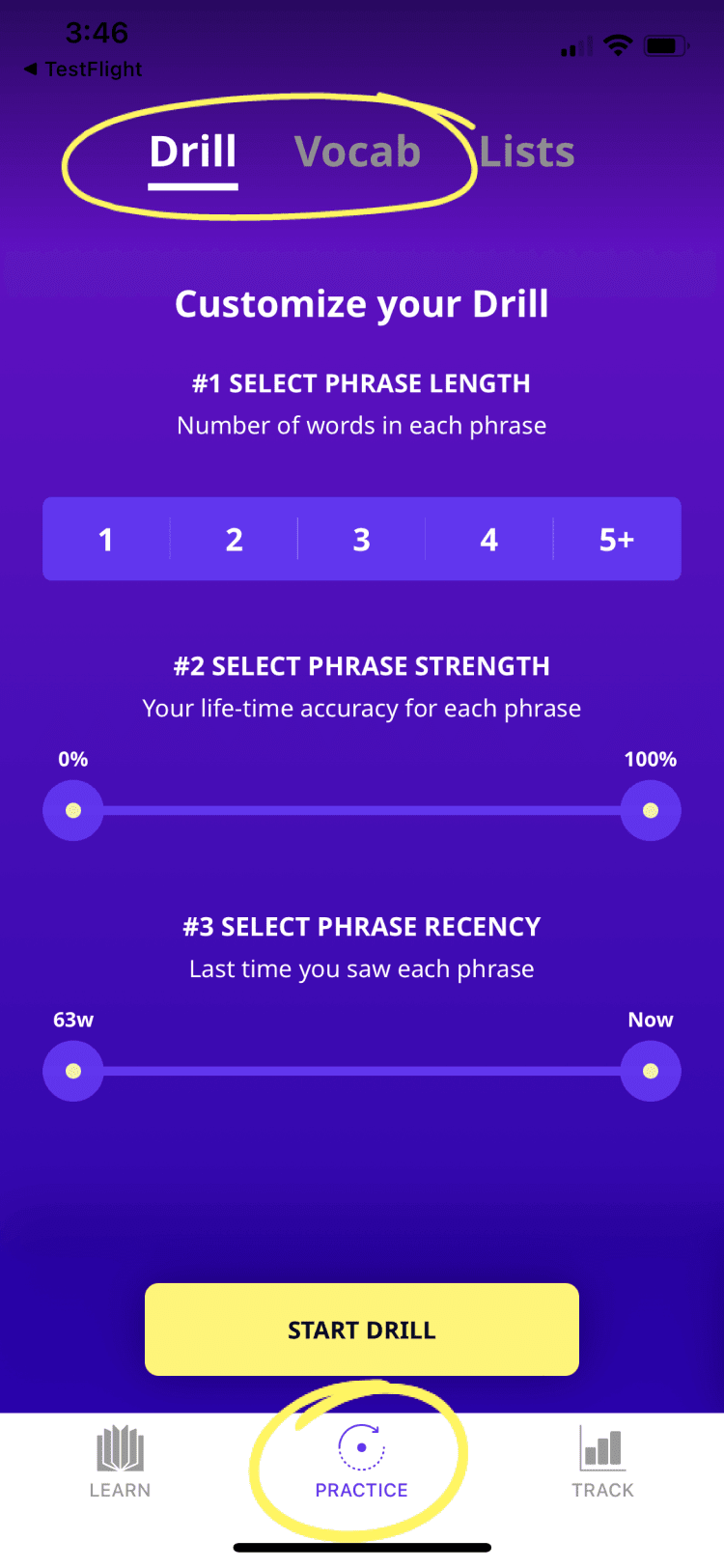 How? Tap "PRACTICE" in the bottom menu bar in the app. At the top of the screen, choose how you want to practice - video drill or vocabulary set.
Customize your lesson using the three selectors, or get going immediately by tapping "START DRILL."
If you want to focus your practice on a specific aspect, adjust the selectors to control the type of phrases that will be included in your lesson:
Phrase Length: Choose lower numbers to focus more on vocabulary. Choose higher numbers to focus on longer constructs.
Phrase Strength: Adjust the slider to focus on phrases where you have a higher or lower life-time accuracy.
Phrase Recency: Adjust the slider to focus on phrases you've not seen in a while or phrases you've just encountered.
Use Hands-free mode to keep your mouth moving
Why? Hands-free mode enables you to learn on the go or when your hands are busy. Hands-free is best enjoyed in the PRACTICE section after you've completed at least six lesson tiles.
The PRACTICE section generates consecutive drill lessons on auto-play; you can practice as long as you'd like without touching the screen. And the more you learn, the more variety you'll experience in your practice.
Kleo learners are resourceful. We've heard of Hands-free mode used when holding a baby, typing out emails, or doing the laundry and dishes. One of our Founders loves to use Hands-free mode when walking to pick up her girls from school. I guess she doesn't mind the occasional odd glance from a passer-by!
In addition to the convenience factor, there is an additional learning benefit of Hands-free. As one learner shared: "The hands-free option to practice is so amazing! I thought it was just going to be convenient, but it's more than that. It seems like it's forcing you to use a different part of your brain when it's all completely verbal and you don't even see the words in English. I really enjoy the challenge."
How? Tap the Hands-free toggle in the Video Settings. (As a reminder, access Video Settings by tapping on the screen to pause any interactive video and then tapping the Settings gear.)
To exit Hands-free mode, press and hold on the lock (as shown below) until the green circle completes and the video re-emerges.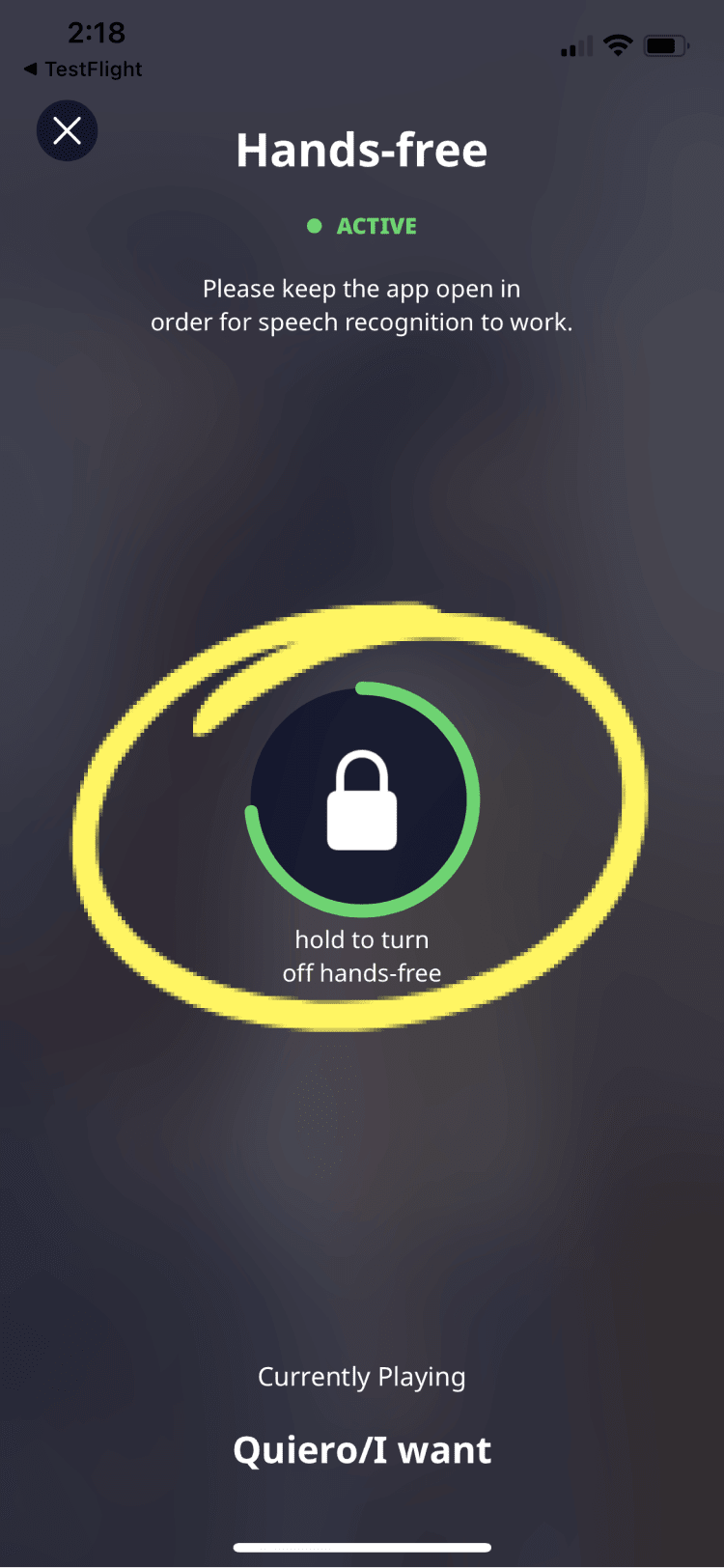 3. Deepen your learning
Dig into your responses with "EXPLORE IT"
Why? This is a good way to slow it down and spend time processing the material. Listen to the audio for the whole phrase or specific words.
Or if you believe there was an issue with the speech recognition for this response, bring this to our attention using "Flag an issue." Our team reviews every submission.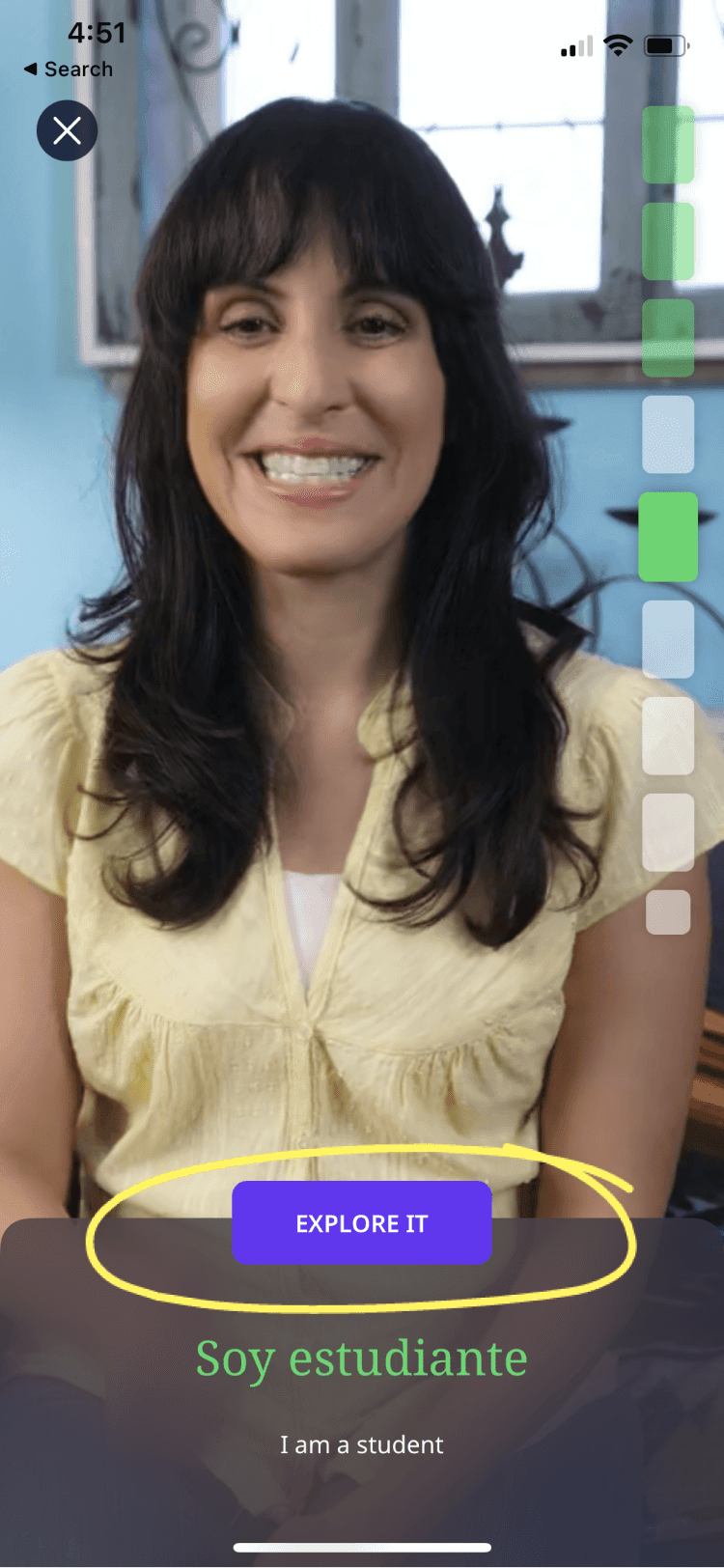 How? Tap "EXPLORE IT" on any response clip. Listen to the audio or flag an issue for us.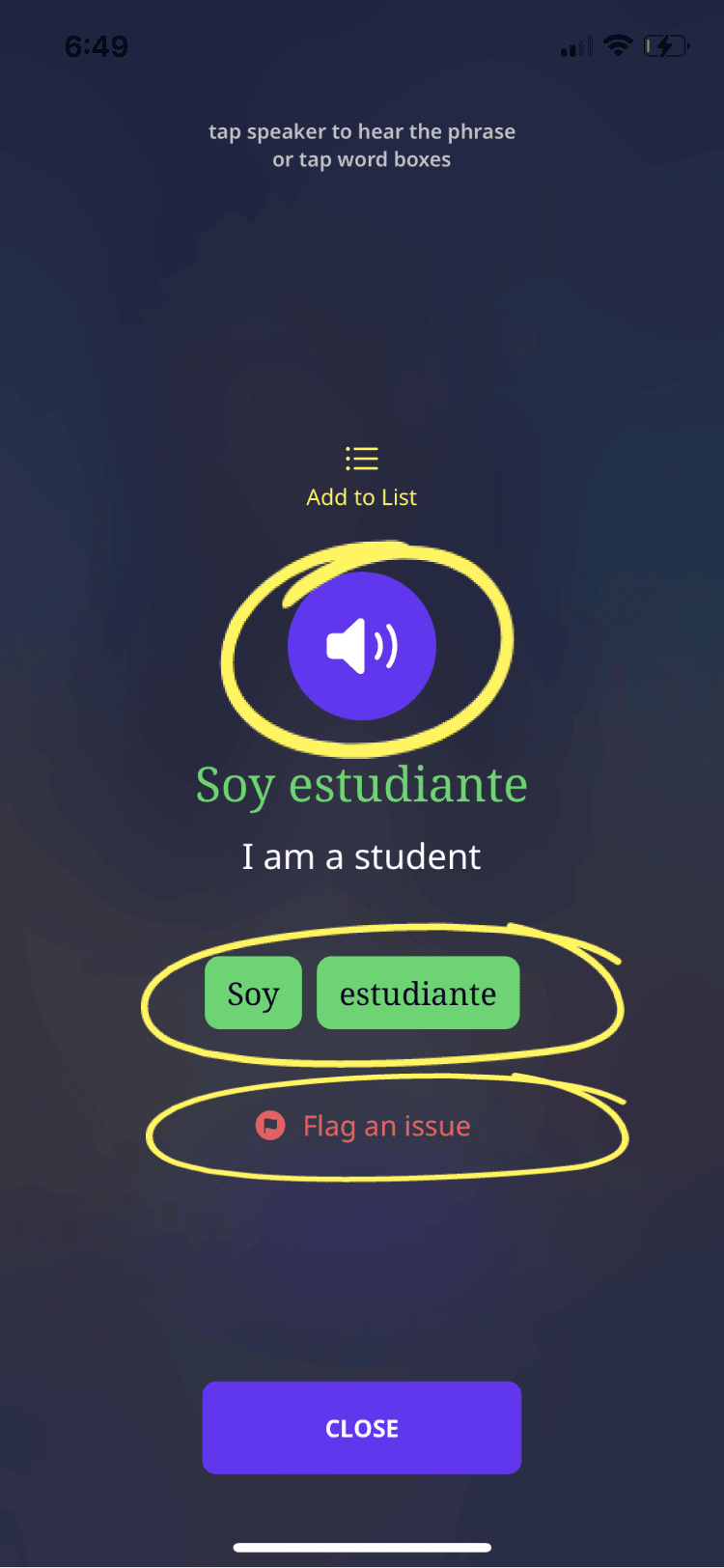 Note that the "EXPLORE IT" feature is not available when a device has the accessibility setting on.
4. What's coming next?
Based on the amazing suggestions we've received from the Kleo community, our next round of enhancements will focus on continuing to help you practice smarter:
Enhanced tracking visibility: You'll have the ability to focus on words in the PRACTICE section based on your strength category (Strong, Medium, Weak).
Please keep the suggestions coming!: What are your tips and tricks for using Kleo? Let's share these with the community! What other features would help you? Together, let's keep building the best place to learn a new language!